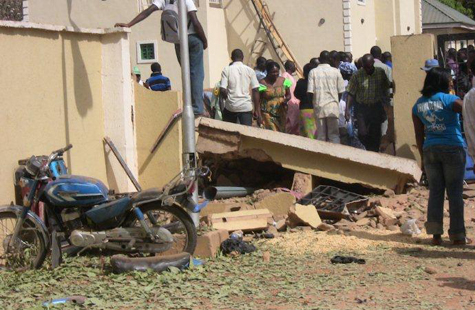 Damages from a previous church attack.
More vicious attacks have been made against the peaceful inhabitants of two Christian villages. During the early hours of February 22nd, ten family members were tragically hacked to death and two others sustained gunshot wounds after an unexpected attack took place in Kogwom Village (Vom District in Jos South, Plateau State). The grieving family had gathered together that morning to conduct the funeral of a grandmother when the unfortunate tragedy took place.
The second incident happened on February 23rd at about 10 p.m., this time in Aduwan Gida Village (located in Zangon Kataf, Southern Kaduna). Similarly, it occurred when villagers had gathered to mourn the loss of an elderly member of the community. After gunmen fired indiscriminately for about ten minutes, a total of six people were killed (including a nursing mother and her six-month-old baby) and many others injured. All who survived are receiving needed medical care at undisclosed locations. It is suspected by authorities that members of the notorious militant Muslim group, Boko Haram, are the perpetrators of the malicious attacks. Read more about the intense persecution facing Nigerian believers at our Nigeria Country Report.
Pray for the comforting presence of Jesus to be with these dear villagers as they mourn the sudden loss of their beloved family and community members, while dealing with the resulting shock and senselessness of these crimes. May they experience the blessed hope of eternity, where they will one day be reunited with their loved ones – never to be parted ever again. In the meantime, ask that the wicked plans of the enemy against these vulnerable believers be thwarted and brought to nil, and that the hearts of the attackers will be touched by God's transforming love.