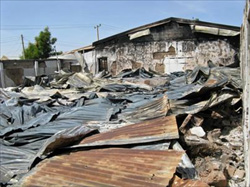 Living Faith Church Damaturu, Nigeria, destroyed
by Boko Haram, 11 October 2011
Photo: World Watch Monitor



According to the new 2013 edition of the World Watch List, produced by Open Doors, Nigeria is considered the most dangerous country for a Christian to live. The researchers report, "Between November 2011 and October 2012, we recorded 1,201 killings of Christians worldwide of which 791 happened in Nigeria." Since 2009, the attacks of Boko Haram, a militant Islamic group, have claimed the lives of more than 3,000 people. The majority of the attacks were made against churches -- spanning from the capital Abuja, across mid-to-northern Nigeria, and through to Sharia-law northern states.
In the militant group's ruthless attempts to overthrow the government for the purpose of creating an Islamic state, the resulting havoc and destruction has taken its toll in what is known as Africa's most populous country. And the aftermath of the tragedies affecting Nigeria's innocent victims can be described as excruciating. Deborah painfully recalls how her husband was shot dead in front of her, and how their two daughters, ages 7 and 9, were taken away by the perpetrators on April 25th, 2012. This distraught mother has not received any news of her girls since then. A few months after their abduction, her third child (a son) was shot and killed. To hear the testimonies of three other Nigerian widows who were caught in the midst of the country's violence, visit our multimedia site.
While many Christian families have been able to flee from these volatile areas, a small minority of remaining residents are now living in constant fear of further unexpected attacks. In an effort to provide some protection, the government has deployed a special army-police unit. However, it's reported that the security is still fragile in this part of the world. To better understand the plight of believers in Nigeria, go to the Nigeria Country Report.
Please continue to pray for the surviving victims of the attacks, as well as those who have tragically lost loved ones. May our Heavenly Father assure them of His comforting presence and tremendous love, while also providing them a safe place in which they can heal and be restored. Ask that He give the government officials (including Nigeria's Christian president, Goodluck Jonathan) wisdom and support, both nationally and internationally, as they raise up a standard against the tide of evil seeking to overcome them. In fact, pray that God will somehow capture the attention of the members of Boko Haram, helping them to realize the seriousness of their actions against His innocent people and leading them to sincere repentance and spiritual transformation.