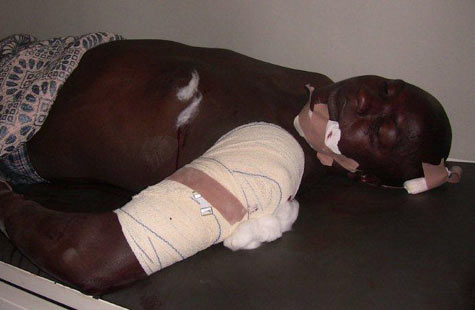 Injuries from a previous attack
Further incidences of targeted violence have taken place against Christians in the northern Nigerian state of Borno. On April 20th, gunmen pulled over a bus near Maiduguri, demanding the passengers aboard to declare their faith. The gunmen then proceeded to kill six people who had confessed they were Christians.
It was also reported that militants have recently embarked upon an "Islamization campaign" in Gwoza (also located in Borno state). In this situation, residents were threatened by gunmen who were going from door to door, demanding that the family members within each household profess allegiance to Islam at gunpoint.
On April 19th, just prior to these violent acts of persecution, intensive warfare was raging in the far north of Borno between the military and the Islamist militant group, Boko Haram. At least 185 people have died and up to 2,000 homes were destroyed due to this violent conflict which took place in the remote town of Baga (near the Chad border). The aim of Boko Haram is to create an Islamic state across northern Nigeria. For an overview of the country's situation, previous prayer alerts, and on-location video clips, go to the Nigeria Country Report.
Pray for God's peace and healing upon all the traumatized victims of these violent attacks, and for His comforting presence to be with those experiencing loss. May each of these surviving victims draw near to Him, knowing that He is their 'mighty rock and refuge' in times of trouble (Psalm 62:7). Also ask that He will bless the efforts of the Christian workers commissioned by Him to serve tirelessly in communities affected by the violence, sustaining and strengthening these faithful servants as they seek to bring His hope and restoration.