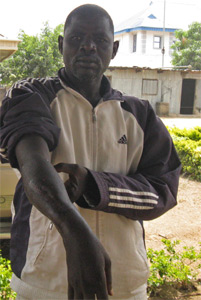 Scars on Adamu Musa, shot by Boko Harm
in a 2013 attack on I Gava West village.
Photo: Morning Star News


In the dark of the night on February 15th, Boko Haram militants chanting "Allahu Akbar" ("God is great") attacked the predominantly Christian village of Izghe in the Gwoza Local Government Area of Borno State. After ordering the villagers to gather together, the assailants then opened fire, chasing down anyone who attempted to escape. At least 100 were murdered. The gunmen, who were wearing military fatigues, also set fire to houses, looted food supplies and stole several vehicles.
Boko Haram launched similar attacks on other villages in both Borno and Adamawa State the same day. The militant group, which has ties with al-Qaeda, seeks to impose Sharia, or Islamic law, throughout the country. Last year, hundreds of Christians were brutally murdered by the group.
After yet another massive attack on our victimized Christian family in Nigeria, let us turn to Scripture, joining the plea of the psalmist David in Psalm 13 while praying on their behalf: "How long, Lord? Will You forget me forever? How long will You hide Your face from me? How long must I wrestle with my thoughts and day after day have sorrow in my heart? How long will my enemy triumph over me? Look on me and answer, Lord my God. Give light to my eyes, or I will sleep in death, and my enemy will say, 'I have overcome him,' and my foes will rejoice when I fall. But I trust in Your unfailing love; my heart rejoices in Your salvation. I will sing the Lord's praise, for He has been good to me."
To watch a short video about Habila, a Christian man in Nigeria who was shot in the face after refusing to deny Jesus, please visit this page.