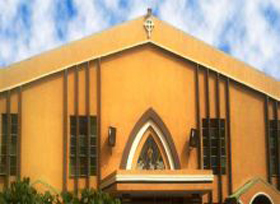 One of the churches targeted in the attacks.
Photo: CSW
At least four Christians and a soldier were killed in the city of Kano, Kano State, on July 27th after a bomb was thrown over a church's fence as believers were leaving their Sunday worship service. Many other Christians were hospitalized with injuries. Several other sites in the area have also been bombed in recent weeks, and the Islamic militant group "Boko Haram" (which translates to "Western education is a sin") is suspected to be behind the assaults. The terrorist group seeks to impose Sharia law throughout the country, often targeting Christians.
In another incident, Fulani gunmen stormed a church service in southern Kaduna State on August 3rd and began firing at those present. A young man who was guarding the church was killed, while several others were seriously injured. There has been a surge in attacks by increasingly well-armed Fulani herdsmen on non-Muslim villages in several Nigerian states this year. The progressively sophisticated tactics and weaponry utilized by the herders has led several knowledgeable observers to conclude that they have developed links with Boko Haram.
As our Christian family in Nigeria faces ruthless assaults from militant groups and Fulani gunmen alike, pray that the Lord will not only protect them from further attack but also greatly strengthen their faith and encourage their hearts. May they look to Jesus for the grace to forgive their persecutors and earnestly love and pray for all who oppose them. Please ask God to grant Nigeria's governing authorities the wisdom needed to adequately protect vulnerable believers, and the desire to pursue justice on behalf of those already victimized in the heartless attacks.
You can learn more about the ongoing struggles facing our Christian family in Nigeria by visiting our Country Report.