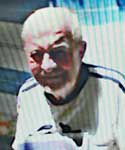 Screenshot from video
footage of Michael Sinnott
On October 10, Michael Sinnott, a 79-year-old priest from Ireland, was abducted by six armed men in the city of Pagadian near Zamboanga (Mindanao), Philippines as he was conducting evening prayers in his home (click here for more information). Last week we reported that he was able to receive medication for his heart problems. This week, his kidnappers, who many believe are members of a rogue element of the Moro Islamic Liberation Front, released video footage of the priest and demanded a $2 million (USD) ransom.
There continue to be grave concerns for Sinnott's health and safety. Please remember him in your prayers and pray for his release.
Click here to learn more about the opposition of Christians in the Philippines.