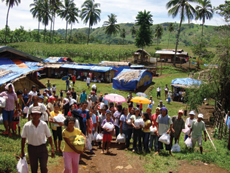 250 Christian families were forced from their
homes to this refugee camp in recent years.
A Christian man, Clarito dela Cruz, was recently murdered by Muslims in the region of Mindanao in the Philippines. On July 26, a Muslim couple pretending to be husband and wife hired Clarito to drive them to a remote village near the town of Linamon. It is then believed that the couple, likely assisted by a companion, tortured and strangled Clarito with an electrical wire. They also shot him twice and stole his motorbike, which belonged to his father-in-law and was the family's means of earning a living. He leaves behind a wife named Leodel, who is pregnant, and their 3-year-old son. Clarito's parents oversee their church's evangelism program, and his pastor told a VOM worker that Muslims in the area had tried to convert church members to Islam. Muslims attacked Christians in Linamon several years ago, burning homes and stealing livestock.
Pray that Clarito's loved ones will find strength, courage and peace in Christ as they grieve his loss. Pray for special provision for his wife and children as they face life without him. Pray that God will continue to embolden Christians in the Philippines to be imitators of Christ and his steadfast faithfulness at great cost (1 Corinthians 11:1).
For more on those living as cross-bearing disciples in the Philippines, go to the Philippines Country Report.