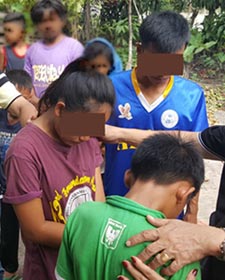 A dedicated church elder from Sultan Kudarat, Philippines, was brutally murdered by two men on September 11th. Witnesses say Perfecto Padilla, 52, was resting outside his house in a hammock when two militant Muslim men came by on motorcycles and began firing what was believed to be a 45-calibre pistol from about five metres away. Perfecto was struck by seven bullets in his chest, thigh and other parts of his body. The assailants quickly fled the scene.
Perfecto's daughter Naomi ran to her wounded father, crying and screaming for help. A pastor was nearby, visiting a church member, when he heard the screaming and promptly came to assist. Noting the seriousness of Perfecto's wounds, Pastor William borrowed a tricycle so he could immediately take him to the hospital, but the wounded man died on the journey. Perfecto is remembered for his dedication to the church and desire that more people come to know Christ.
Perfectos' two children, Naomi (12) and Joseph (10), are now left alone without parents. Since their mother went to work overseas many years ago, they have lost contact with her. Our local ministry partner immediately tended to them after being informed of the tragedy. VOM is providing financial assistance for the children so they can receive necessary care, rebuild their lives, and have a hopeful future. More on the persecution of Christians in the Philippines is available here.
Thank you for joining us in praying that Naomi and Joseph, who are deeply grieving the sad loss of their loving father, will experience the compassionate care, comfort and provision of their Heavenly Father who longs to meet their every need. Ask Him to strengthen their faith so that as they grow and mature, they will be able to build on their deceased father's spiritual legacy. May there be an end to the tensions between Christians and militant Muslims in the Philippines, particularly the Sultan Kudarat area, so that land disputes will be resolved and people can live in safety and harmony.