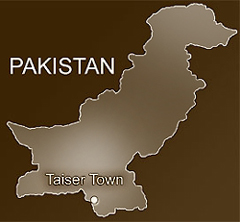 A mob of Taliban militants attacked the Christian community in Taiser Town, near the city of Karachi in Sindh province on April 22. Armed men approached a group of Christians who had gathered to remove insulting messages from the walls of a church building and local homes. The graffiti included the words "Long Live the Taliban" and demands for Christians to pay a tax imposed on non-Muslims. A mob soon gathered and gunshots were fired indiscriminately into the crowd, seriously injuring three Christians, including an 11-year-old boy, Irfan Masih. The attackers then ransacked several homes belonging to Christians, burned Bibles and beat believers. Two Christians who resisted the militants were reportedly executed in front of their families. Masih died five days following the attack. The Pakistani government recently allowed the Taliban to establish Islamic law in Swat Valley, North-West Frontier Province and Christians in Sindh are concerned that their province could be the next to fall under Taliban rule.
Pray that, in the aftermath of this attack, Pakistani Christians will remain unshaken from the work the Lord has given them, trusting Him to bring eternal results (1 Corinthians 15:58). Ask God to give healing to those injured. Pray that those mourning for the martyred believers will find comfort in Christ.
For more information on the persecution of Christians in Pakistan, click here.