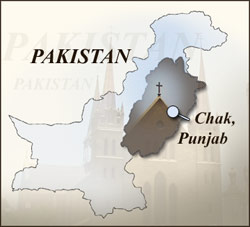 On May 1, a mob of approximately 500 armed Muslims launched attacks on Christians in the village of Chak, Punjab province, after five local believers were arrested for blasphemy. The Christian men were accused of breaking into a government-run primary school for girls a week earlier and smearing a page of the Quran with ink and gum. They were also accused of leaving a message on the blackboard that linked one of the men, a well-known social activist, to the scene. The militants, angered by the alleged blasphemy, vandalized homes and threatened believers with death. Muslims from a neighbouring village tried to burn down the houses of the accused men but were stopped by authorities. Twelve Christian families have since fled the area in fear.
Pray that the arrested Christians will be released. Pray that the assailants will come to repentance and salvation. Pray that Pakistani Christians will know God's care and provision.
For more information on the persecution of Christians in Pakistan, click here.