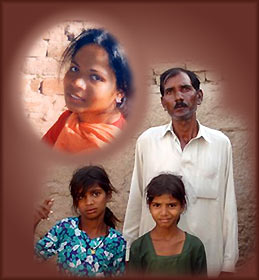 Asia Bibi and her family
Thirty-seven-year-old Asia Bibi was recently arrested by police on allegations of blasphemy in the village of Ittanwali, Punjab province, Pakistan. On June 19, some of the Muslim women who work with Bibi on a farm owned by a local Muslim engaged in a heated discussion with Bibi about Islam. Bibi told them that Christ died on the cross for their sins and asked them what Mohammed had done for them. "Our Christ is the true prophet of God and yours is not true," Bibi said. The Muslim women became angry and began to beat her. Some men then locked her in a room. Muslims announced from mosque loudspeakers a plan to punish Bibi by blackening her face and parading her through the village on a donkey. Local Christians informed the police, who took Bibi into custody before the Muslims could carry out their plan. At last report she was being held at a police station in Nankana city and local Christians were urging the police not to file blasphemy charges. However, police claim that they must go forward due to pressure from local Muslim leaders.
Pray that Bibi will be released. Pray for strength for Bibi's family. Ask God to give boldness to Christians in Pakistan as they witness to their Muslim neighbours.
To find out more about how believers suffer for Christ's sake in Pakistan, click here.