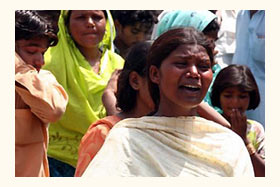 Photo from Sharing Life Ministry Pakistan
Christians in the village of Bahmaniwala in Punjab province, Pakistan, were attacked by Muslims on June 30 after a believer allegedly committed blasphemy against Islam. When Sardar Masih (38) and his son were returning home on their tractor on June 29, they asked a reportedly intoxicated Muslim man and his nephew to move their motorbikes which were blocking the road. Enraged that a Christian gave them an order, the two grabbed Masih and began to beat him. Later that evening, a group of 15-20 Muslims attacked Masih's family and damaged his home. His tractor was ruined and his brothers sustained serious hatchet wounds. The Muslim man filed a report with local police and told a Muslim religious leader that Masih had blasphemed.
The next day, a Muslim cleric used the local mosque's loudspeaker to call Muslims to attack Christians. That evening, more than 500 Muslims looted and damaged over 100 homes, burned vehicles and attacked believers. Electricity and water supplies were also cut off. Dozens were injured, including women and children who were reportedly sprayed with acid. One of the women who was beaten miscarried. Muslims have registered blasphemy cases against 11 believers.
Ask God to enable Christians in Bahmaniwala to grow in Christlikeness through their trials (James 1:2-4). Pray that persecutors throughout Pakistan will be challenged by the consistent testimony of Christ's followers and be drawn to Him.
To find out more about the persecution believers endure in Pakistan,
click here.