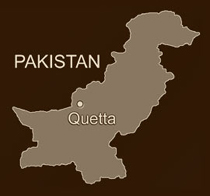 Five Christians were shot and killed by Islamists who opened fire at a laboratory in the city of Quetta, Pakistan on August 28, according to recent reports from local sources in Pakistan. The Christians had reportedly been receiving letters from Islamic militants threatening them with death if they did not convert to Islam. Local Christians suspect that the assailants belonged to the same militant group which killed several Christians and ransacked more than 100 homes in the city of Gojra in early August (click here to read the story).
Thank the Lord for the lives of these cross-bearing disciples. Ask God to comfort those who mourn for them. Pray that Christians in Pakistan will continue to demonstrate Christ's love and hold firmly to faith in Him despite threats of violence and death.
To learn more about the persecution of Christians in Pakistan, click here.