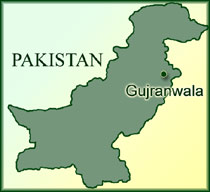 On December 15, three Christian brothers in Gujranwala, Pakistan were poisoned by their Muslim employers who were angered by their faith and their demands for pay. The brothers had left their jobs as sanitation workers at the Ferozewala Pul Banquet & Marriage Hall because they were not receiving their wages. However, they returned when their employers promised them their outstanding wages, a Christmas bonus and overtime pay. When they returned, the brothers were still denied their pay. They were also harassed by staff members who spoke offensively to them about their Christian faith and called them derogatory names. When the brothers finally demanded their due pay, they were threatened with dire consequences if they did not continue their work. The hall owner and hall manager then forced the three to drink poison. Their family was only contacted when two of the brothers, Imran Masih (29) and Irfan Masih (25), were already dead. At last report, the third brother, Aakash Masih (23), was in critical condition. The Peoples Colony police station has registered a murder and deception case against the hall owner and the hall manager. (Source: Compass Direct)
Pray that the Masih family will rest in the knowledge that the Good Shepherd walks with them through this difficult time (Psalm 23). Pray that Aakash will make a full recovery. Pray that the hall owner and hall manager will repent and come to faith in Christ.
Check out the Pakistan Country Report to learn more about the suffering of Christians in Pakistan.