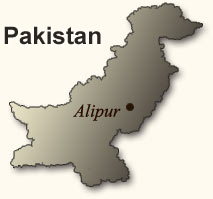 Police in Punjab province, Pakistan recently arrested a Christian woman, Rubina Bibi, on accusations of "blasphemy." One of Rubina's relatives, a militant Muslim, accused her of making a derogatory comment about Muhammad following a minor domestic dispute. Police then arrested her and allegedly tortured her at the police station in the town of Alipur. Authorities have reportedly attempted to cover up her detention and subsequent harassment. At last report, she had been transferred to Gujranwala Jail with charges under Section 295-C of Pakistan's blasphemy laws, which could lead to life imprisonment with a large fine or even a death sentence. (Source: Compass Direct)
Pray that the charges against Rubina will be dropped and that she will be released. Pray for endurance of faith as she suffers for righteousness' sake. Pray that her passion for Christ will be a light that draws others to Jesus (Matthew 5:14-16).
To find out more about Pakistan's suffering Christians, go to the Pakistan Country Report.