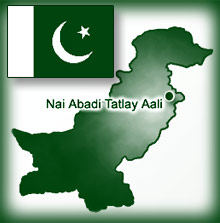 A Pakistani Christian man, Zafar Masih, and his family fled the predominately Muslim town of Nai Abadi Tatlay Aali, Punjab province after he accused a Muslim of beating and raping his 12-year-old daughter on May 12. His daughter, whose name was withheld, stated that Ali, a 28-year-old business man, attacked her when she went to his home where she worked as a house servant. Zafar immediately went to the police station to file charges, but the Station House Officer Inspector refused and began to pressure him to withdraw the accusation. A powerful local politician along with the area's largest land owner, Imtiyaz Kharral, has since threatened to maim or kill him. Even with the immense pressure, Zafar refused to withdraw his application. The Inspector has denied any wrongdoing, stating that he declined to register a rape case because he did not want to harm the Christian girl's dignity. Instead, he had recommended trying to resolve the conflict in a public gathering. At a meeting held at Imtiyaz's farmhouse on May 13, the Christians were not permitted to even speak. Zafar was told that he had to drop the rape charge or else he and all local Christian families would be relocated.
Most of the Christians in this area of Pakistan are construction labourers, sanitation workers and domestic servants working for daily wages. "My eldest daughter worked as a maidservant for a monthly salary of 500 rupees (approximately $6.00 CAD) to lend a hand," Zafar said. "We Christians in Pakistan have no life even dogs live better life than us." (Source: Compass Direct)
Pray for God's healing and mercy in the life of Zafar's daughter. Ask God to sustain and provide for her and her family at this time. Pray that as they suffer they will remain steadfast in the faith (1 Peter 5:8-10). Pray for equality and justice for Christians in Pakistan.
To learn more about the plight of Pakistani Christians, please visit the Pakistan Country Report.