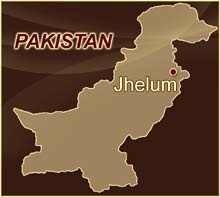 A Christian woman and her four children were murdered by a Muslim mob in Jhelum, Pakistan after her 11-year-old son was accused of committing blasphemy. On June 21, the Christian boy went to the local store to buy laundry detergent. The shopkeeper, upon learning the boy was a Christian, refused to sell any products to him. When the boy returned home and informed his mother of the incident, she phoned her husband -- Jamshed Masih -- and asked him to rush home from work. Before he was able to return, Muslim residents arrived at the family's home and accused the boy of committing blasphemy against the Prophet Muhammad. When Jamshed's wife argued against the accusation, they killed her and the children -- two boys and two girls. Authorities are reportedly too fearful of the local Muslim leader to file charges. The family had earlier been warned by the Muslim leader to leave the predominately Muslim area. (Source: Compass Direct)
Please pray the Lord will comfort Jamshed. Pray that he will not despair but be strengthened by God's Word. Pray the Lord will bring His peace amid this terrible injustice. Pray the Lord will give wisdom to those in authority to know how to deal with the violence and injustice being perpetrated against the Christian population.
Learn more about the plight of Pakistani Christians at the Pakistan Country Report.