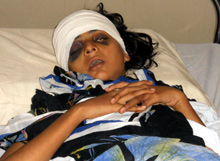 Photo from Sharing Life Ministry Pakistan
Magdalene Ashraf, a 22-year-old Christian nurse trainee, was brutally attacked on July 13 by several Muslim men who raped her and threw her from the fourth-floor window of the Jinnah Postgraduate Medical Center in Karachi, Pakistan. A fellow nurse tricked Magdalene into visiting the office of a Muslim doctor by telling her that he wanted to talk to her about a class assignment. The doctor, Abdul Jabbar Memon, reportedly has a history of sexually abusing Christian nurses in the hospital. Once she was inside the room with the nurse, Dr. Jabbar and at least two other men then attacked her. Describing the assault, Magdalene said: "When I resisted and tried to escape, nurse Fatima slapped both my cheeks and pushed me into Dr. Jabbar. I cried out but no one arrived there to rescue me. They not only gang-raped me, they also tortured me physically and ruthlessly beat me." After several torturous hours, Magdalene was thrown out the window by the men. At last report, she was hospitalized in an intensive care unit. Her family members have reportedly continued to receive threats from Dr. Jabbar, though he has been arrested. (Source: Compass Direct, Sharing Life Ministries Pakistan).
Ask God to give Magdalene healing from the emotional and physical scars of her assault. Pray that her attackers will be brought to justice. Pray that she and her family will trust in the Lord as their protector and guide. Pray for justice for Christian nurses facing similar abuse in Pakistan, where such rape cases frequently go unreported or are ignored by officials.
For more on the persecution of Pakistani Christians, visit the Pakistan Country Report.