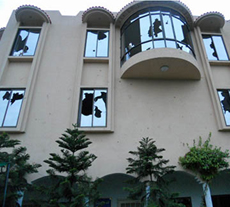 Muslim protestors broke windows of a
Christian-owned elementary school.
(Photo: Sharing Life Ministries Pakistan
via Compass Direct)


On April 29, Mushtaq Gill and his son Farrukh Mushtaq were released from detainment in Gujranwala after a handwriting expert hired by police determined that the son had not written a threatening note accompanying burned pages of a Qur'an. The two Christians were relocated along with family members to an undisclosed location. As news of their release spread on April 30 along with the rumour that another Qur'an had been desecrated, Muslim residents and members of extremist groups rioted and hurled rocks at the Christians' homes, an elementary school and the Aziz Colony Presbyterian Church building. The protestors clashed with police who arrived to provide security to the besieged Christians. At least 18 people were injured. There were no reports of injured Christians. Around 150 protestors were arrested, with two cases registered against them for attacking Christian property and "creating a law and order situation." The attacks caused a large number of Christian families to leave the area.
Gill and Mushtaq were taken into protective custody on April 15 for safety purposes. The purported evidence against Mushtaq were some burnt pages of the Qur'an and a handwritten note, allegedly in his handwriting, claiming that he had desecrated Islam's scripture and used derogatory language against Muhammad. A Muslim youth allegedly found the pages and note outside the Gills' residence.
Praise God for Gill and Mushtaq's release and for the efforts of those in authority to bring about peace! Pray for the protection of Gill, Mushtaq and all other Christians in the area. Pray they will exemplify the love of God through consistent love and prayer for those who persecute them (Matthew 5:43-48).
To learn more about the obstacles that befall Christians in Pakistan, visit the Pakistan Country Report.