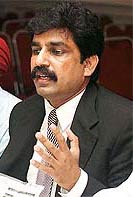 Shahbaz Bhatti
Pakistani Christian leaders are opposing the appointment of Riaaz Hussain Pirzada, a Muslim, to the position of Federal Minister for Minorities Affairs (FMMA). Pakistan's Christian leaders are concerned that the appointment of a Muslim will be a further blow to the rights of religious minorities, as the FMMA's job is to represent religious minorities and their interests to the federal government. Islamists assassinated the former FMMA, Shahbaz Bhatti, on March 2, for opposing the country's blasphemy laws.
In a press statement, Naveed Walter, President of Human Rights Focus Pakistan, said, "In a scenario when minorities are facing persecution, the appointment of a Muslim minority minister has revealed the true face of Pakistan's government. It has also sent a message that it is prepared to placate fundamentalists by giving the post to a Muslim."
Please pray for believers in Pakistan, that they will keep their eyes on Jesus, persevere in their faith, and not grow weary or lose heart (Hebrews 10:32-39). Pray the Lord will raise up Christian leaders who are ready to speak up for the Christian minority in a way that acts as a witness for the gospel. Pray for Riaaz Hussain Pirzada and all who are in authority in Pakistan.
To learn more about the trials befalling Pakistani Christians, visit the Pakistan Country Report.