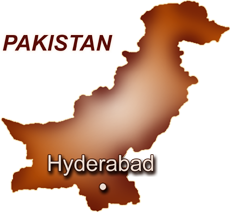 On March 21, a group of young Muslim men attacked a Salvation Army church in Hyderabad, Pakistan, and shot to death 25-year-old Jamil and another man. Recently VOM staff visited with Jamil's wife, Sana, who had been married to Jamil but a month before his tragic death. Sana is very emotionally fragile at this time. "One minute she is laughing and the next she is crying. Her behaviour is very erratic," said the VOM team leader. Jamil had been supporting Sana, his parents and two siblings by working as a sweeper.
Pray that Sana will receive the care she needs and be encouraged by the prayers of her Christian family. Pray that she will look to God in her grief, resting in the unfailing mercy and love of her Father. Pray also for God to comfort Sosan, the wife of the other man killed in the attack, and for their six children. Pray that many will continue to stand as witnesses for Christ in Pakistan, even amid violence and hostility.
You can pray for and stand with Asia Bibi, another woman in Pakistan suffering for her faith in Jesus Christ. Asia has been sentenced to death for blasphemy and is currently waiting for a court's ruling on her appeal.
Find out more about the ways Christians are suffering in Pakistan at the Pakistan Country Report.