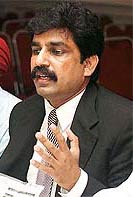 Shahbaz Bhatti was
assassinated in March for
speaking out against the
blasphemy law.
A Pakistani Christian has received death threats after condemning the murder of a Christian government minister who was killed for opposing the blasphemy laws.
Evangelist Arif Ferguson, 36, and his entire family have had to go into hiding following death threats from militants. Arif was first warned after sharing the Gospel among Muslims. More serious death threats followed after he made a statement to a local newspaper condemning the assassination in March of Minorities Minister Shahbaz Bhatti, who had spoken up against the blasphemy law (for more, click here). Tehrik-i-Taliban Pakistan claimed responsibility for killing Shahbaz Bhatti, and the same group is now threatening Arif.
Arif, a laboratory technician, fled to Karachi after being tipped off that the militants were trying to track him down. But even there he received death threats, forcing the family of nine to go into hiding again. Arif and his sisters have lost their jobs as a result. Arif shared, "I trust in Jesus. If I die, it will be for Christ."
Please pray for Arif and his family -- for their protection, support and encouragement. Pray the Lord will provide for them. Pray their faithful testimony will be an encouragement to other believers.
For more on Pakistan's persecuted Christians, visit the Pakistan Country Report.