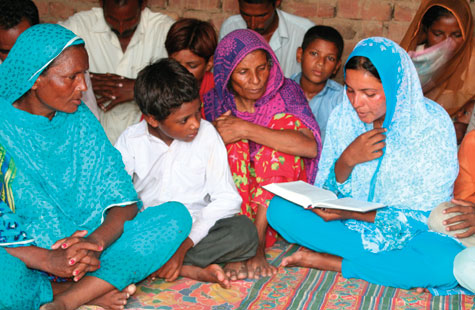 Christians in Pakistan continue to face charges of blasphemy.
Pray that they will be able to stand firm in their faith!
Dildar Yousaf, 28, was arrested and charged with blasphemy after defending his eight-year-old nephew who was being attacked by a group of Muslim boys last June. Dildar's nephew, Ehtasham, was passing by a "madrassa," a school where Islamic students study the Qur'an, when seven boys surrounded him and tried to force him to say, "There is no god but Allah and Muhammad is his prophet." Ehtasham refused, and the boys began to verbally and physically assault him. Dildar happened by and pulled his nephew away and took him home.
A rumour then spread that Dildar had disgraced the Muslim proclamation of faith. Crowds gathered and began to demand his death. Police picked up Dildar from his workplace, put him in protective custody and charged him with blasphemy. This particular charge carries a potential three-year sentence with the possibility of parole, unlike other blasphemy charges in the country that can result in a death sentence.
Dildar's wife, Naseem, and their two children, as well as Ehtasham and his family, have all had to leave their village. VOM is supporting the family and providing legal assistance to Dildar. Dildar's village has a history of persecution. In the past, a Christian's house was burned, a pastor was killed, and another believer was charged with blasphemy.
Please pray that Dildar and Ehtasham's families will be able to safely return to their homes with God's protection. Please pray that the charges against Dildar will be dropped. Please pray that God will reach out to the seven young boys who attacked Ehtasham so that they will hear and heed His call.
For more on the persecution of Pakistani Christians, go to the Pakistan Country Report.