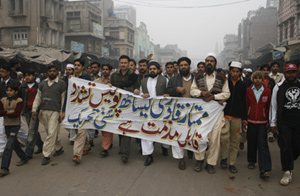 In this photo, Muslims protest after hearing that Asia Bibi,
another Christian woman accused of blasphemy,
might be granted clemency. She was not.
A young mother who angered relatives when she refused to deny her Christian faith has been falsely accused of blaspheming Muhammad, the prophet of Islam.
Shamim Bibi, the 26-year-old mother of a five-month-old baby girl, was arrested by police in Khichiwala, Bahawalnagar district, in Punjab Province on February 28 after neighbours accused her of uttering remarks against Muhammad -- an offence punishable by life imprisonment or death under Pakistan's blasphemy laws. Shamim's brother and brother-in-law say she was wrongly accused because she had resisted pressure from her husband's sister as well as her nephew and niece to convert to Islam just four days before her arrest.
A local leader claimed that Shamim's neighbours told him and other Muslims that they had heard the Christian woman making derogatory remarks about Muhammad in her courtyard. Shamim's brother-in-law says after gathering information from an accuser and the neighbourhood, he found that neither accuser was even present at the time of the alleged remark. The Superintendent of Police Investigation also acknowledged that one of the two witnesses had admitted to not being present at the alleged "crime" scene.
Please pray that the accusers will recant any untruth and that Shamim will be freed. Please pray that her infant daughter and her husband, Bashir Masih, will remain safe and will soon be reunited with Shamim. Pray that Shamim will keep her eyes on Jesus, persevere in her faith, and not grow weary or lose heart (Hebrews 10:32-39; Hebrews 12:1-3).
For more on the persecution of Pakistani Christians, go to the Pakistan Country Report.