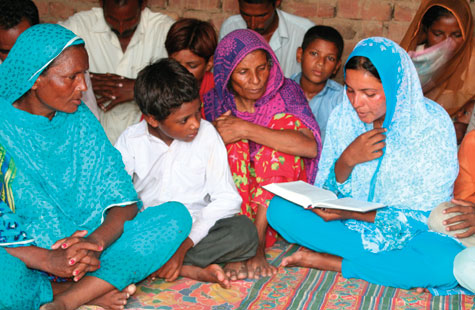 Pray that more families in Pakistan will come to know the Lord.
An evangelist in Pakistan supported by VOM has asked for prayer for several people who have recently been receiving the gospel message.
The evangelist, "Sam," had been praying for his good friend Hadi for months, but had never had the opportunity to share his faith. Hadi recently asked for a copy of the New Testament and has been reading it.
Sam was invited to pray for a girl with chronic kidney pain, and after Sam prayed for her in her home, the pain suddenly disappeared. The girl's family was amazed and asked how this was possible. Sam said, "Everything is possible in the Lord Jesus Christ." The entire family made the decision to follow Jesus.
A few Sundays ago, after Sam preached in a church service, a man confessed to him that he was feeling suicidal. His family was pressuring him to divorce his wife because they had no children, but after talking with Sam and praying with his family, the whole family gave their lives to Christ.
While there is a notable degree of religious freedom promised to minorities by law, non-Muslims must practice their faith cautiously and under varying degrees of threat from Islamists. Christians in Pakistan face severe opposition from militant Islamic groups, including imprisonment, torture and even death.
Please pray that Hadi will be saved. Pray that the faith of the two families will grow strong so they can also effectively share the gospel. Ask God to continue growing His Church in Pakistan. Pray that Christians facing persecution for their faith in Pakistan will look to God for their strength.
For more on the persecution of Pakistani Christians, go to the Pakistan Country Report.