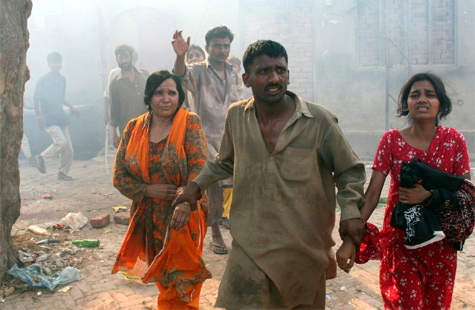 Hundreds of Christians have had to flee Rimsha's neighbourhood.
Please also pray for them.
Rimsha Masih, 14, a Pakistani teenager who was accused of desecrating the Qur'an, has been released on bail (for more on the charges, click here).
Rimsha was granted bail on September 7, but could not leave the prison until adequate security was arranged. Two days later, she was transported in an armoured vehicle to a helicopter that flew her to a secret location where it is hoped she will be safe from Muslim militants calling for her death. She is scheduled to be in court again on September 16 and is expected to be acquitted. However, even if acquitted, Rimsha will likely remain in danger.
Thank the Lord that Rimsha has been released on bail. Pray that God will encourage her and her family during this difficult time. Pray that those who oppose Christians may experience repentance and salvation, just as Paul did (Acts 9:1-19).
Go to the Pakistan Country Report for more on the persecution our brothers and sisters face in Pakistan.