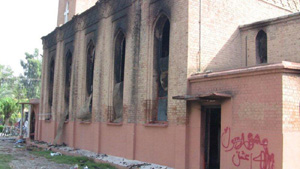 The burned exterior of St. Paul's Lutheran Church
Photo: VOM USA

On September 21, a mob of several thousand militant Muslims attacked St. Paul's Lutheran Church in Mardan City, Pakistan. The attackers, armed with rifles and kerosene, overwhelmed security guards and broke into the church. They destroyed Bibles and prayer books, desecrated the altar, and set fire to the church building and several surrounding homes and buildings. The mob was returning from a protest against the YouTube film, "Innocence of Muslims."
The attack on the 82-year-old church building lasted for five hours. The church staff was able to flee, but those who lived on the campus lost all of their possessions. The attackers spray-painted the words "God is great," "Oh God help us," and "Love our prophet" on the church steeple.
The day after the attack, church members and other local Christians gathered in front of the burned buildings to express their disappointment at the local government for failing to protect their church. On Sunday, September 23, more than 1,000 people -- many more than the church's usual congregation of 300 -- attended a prayer meeting at the church site.
Pray for the protection of Christian communities in Pakistan and in other nations where protests are continuing. Praise the Lord for the faithfulness of the many believers who gathered together to worship Him. Pray that their conduct will act as a witness for Him.
For more information on Pakistan's persecuted Church, please visit the Pakistan Country Report.