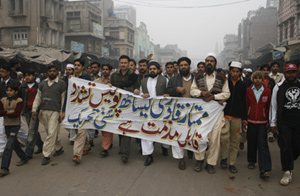 Muslims protest after hearing that Asia Bibi,
another Christian woman accused of blasphemy,
might be granted clemency. She was not.
The High Court in Islamabad has delayed the trial of Rimsha Masih, a mentally challenged Christian girl charged with blasphemy, while another young follower of Christ has been accused of the same offense.
The Court will take until November 14 to decide if the case against Rimsha will be dismissed. Three witnesses who had earlier testified that the mosque leader, Khalid Jadoon Chishti, had planted fabricated evidence on Rimsha have since recanted (for more, click here). The Muslim leader is now free on bail, and prosecutors have reportedly said they will not try him on blasphemy charges.
In Karachi, a16-year-old Christian boy and his family are in hiding following accusations the young man sent text messages denigrating the Prophet Muhammad. Protesters broke into the family's house and burned all their furniture and appliances. Ryan Stanten has been charged under the blasphemy law, although it has been reported the boy's friends are responsible for sending the messages.
Please pray that the case against Rimsha will be dropped. Pray this case will discourage others from making false accusations. Please pray for the safety and strength of Ryan and his family. Please pray for a mighty flood of justice in Pakistan (Amos 5:24).
For more on Pakistan's suffering Church, please visit the Pakistan Country Report.