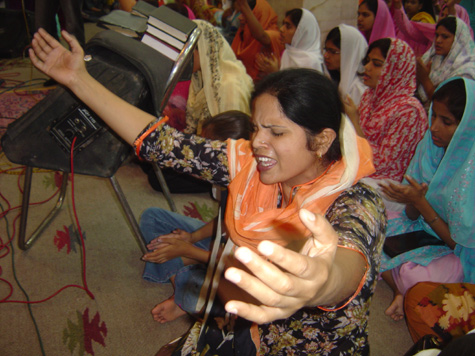 Please pray for the safety of Christian women in Pakistan.
Shumaila Bibi, 24, is just one among hundreds of Christian women and girls in Pakistan to be kidnapped and tortured into converting to Islam over the past several years. On September 24, Shumaila was on her way home from work when her kidnapper, Muhammad Javaid Iqbal, 26, forced her to go with him. Shumaila had previously shunned Muhammad's advances and his marriage proposal.
The next day, Muhammad and his relatives took Shumaila at gunpoint to a lawyer where she was told to sign statements declaring she had converted to Islam and had married Muhammad. When she refused, she was drugged. While she was unconscious, the lawyer used Shumaila's thumb prints on the documents.
For days afterwards, Shumaila was sexually abused, harassed, and forced to study the Qur'an and the precepts of Islam. She was eventually able to escape on October 5 and return to her parents' home. Muhammad then told police that Shumaila had been kidnapped by her parents, and officials upheld his complaint because of the marriage and conversion documents. Shumaila's father, Mansha Masih, 68, now risks imprisonment for his daughter's "abduction." The National Commission for Justice and Peace has taken up his defence.
Ask God to bring about justice for Shumaila and her father. Pray for the safety and protection of all Christian women and girls in Pakistan who risk being kidnapped and tortured for their beliefs. Pray that God will encourage, strengthen, and deliver those being held against their will. Pray that Muhammad and his family members will come to know Jesus Christ.
For more on the plight of Pakistani Christians, go to the Pakistan Country Report.