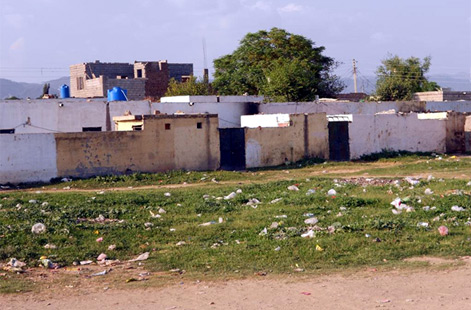 The Islamabad neighbourhood where Rimsha Masih
and her familiy lived until the girl's arrest in August.
Photo: Open Doors News

The charges against Rimsha Masih, a teenager accused of blasphemy in Pakistan, were dropped on November 20th due to lack of witnesses. Rimsha, who was accused of burning sacred Islamic texts, spent three weeks in an adult prison before being released on bail in September (for more information, click here).
While the charges have been dropped, concern remains for Rimsha's safety. She and her family have been living at an undisclosed location since her bail release.
Thank the Lord for Rimsha's release! Pray that He will comfort and encourage her and her family. Pray for their safety and protection. Pray that other Pakistani believers will be emboldened to share the Good News of Jesus Christ with their neighbours, despite possible risk.
Go to the Pakistan Country Report to learn more about Pakistan's persecuted Church.