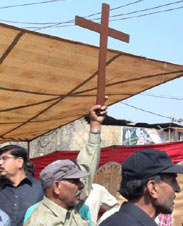 Protests were held in
Lahore following the riots.


Please continue to uphold Pakistani Christian Sawan Masih whose court trial was scheduled to begin on April 22nd. The roadsweeper from Lahore was charged following accusations made against him which reportedly prompted widespread rioting in the Joseph colony last month. (To read the previously posted prayer alert concerning this situation, click here.)
Pray for protection and justice on behalf of Sawan, and all who are supporting him. May God grant wisdom and favour to those who are advocating bravely in his defense. Also remember to intercede for the many innocent members of this devastated Christian community whose homes have been completely demolished. Ask the Lord to work mightily on their behalf, bringing greatly needed healing, provision and restoration in their lives.