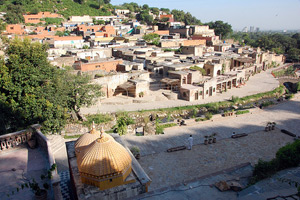 Though acquitted, Rimsha and others
are not able to live freely in Pakistan.
Photo: Flickr / Maria Ly
Rimsha Masih, the young Christian girl who fled Pakistan with her family after a Muslim cleric falsely accused her of burning pages from the Quran, has been provided refuge here in Canada. Although Rimsha was acquitted, those accused of blasphemy in Pakistan are often subject to vigilante justice. "World Magazine" reporter Rachel Aldrich explains that "mobs have been known to attack and kill people accused of blasphemy, and two prominent politicians who had discussed changes to the blasphemy laws have been killed." (More about the challenges facing believers in Pakistan can be found at the Pakistan Country Report.)
A Muslim cleric who lobbied for her release, Tahir Mehmood Ashrafi, said Rimsha had been facing threats and was moving constantly. "I am sad that this innocent girl had to leave Pakistan," he explains. "She had been acquitted by the court, and despite that it was not possible for her to live freely."
This case has received widespread attention in part because of Rimsha's young age and questions about her mental capabilities. Although an official medical report at the time put her age at 14, some of her supporters say she was as young as 11. Canada's immigration officials were instructed to process her family's applications for permanent residency under humanitarian and compassionate grounds. For more on Rimsha's case, check this link.
Please pray for God's continued protection upon Rimsha, and also for the safety of all who have provided her necessary assistance. It has been stated by Christian leaders that Canada is a place of 'healing for the nations.' May this be especially true for Rimsha and her family as they take up residency here. And contrary to the teen's past experience of unjust imprisonment, may her future be bright and full of hope (Jeremiah 29:11).