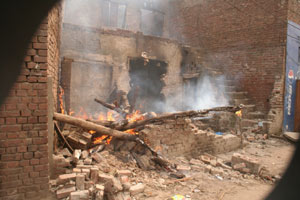 A house that was destroyed during the Joseph Colony attack
Photo: VOMC Pakistan contacts
Another blasphemy row has broken out in a Lahore township where Christians fear they may become targets of violence. Adnan Masih, a 25-year-old Christian teacher, has been in hiding since October 8th after being accused of writing blasphemous comments in a book about Islam. According to an employee of a glass and aluminium business, the book was left in the shop where Adnan's brother also happens to work. Consequently, the shop owner, Mushtaq Masih, was immediately taken into custody in Adnan's place. In addition, the brother and uncle of the accused are being held illegally for the same reason.
Christians residing in this area of Lahore, known as Bahadar Pura Bahar colony, say they fear a repeat of the devastating riot that took place in Joseph Colony during March of this year. (Click here to read a past report on this incident.) Local police have been urged by Release partners to implement security measures in order to protect Christians and avoid any further outbreak of unnecessary violence. To view a four-minute video clip reporting on the dangers of Pakistan's blasphemy law, go to this page.
Pray for God's peace and protection over the many Christian families residing in the Bahadar Pura Bahar colony of Lahore. Ask Him to intervene on behalf of those who are being unjustly detained, bringing about their soon release. Please also intercede on behalf of Adnan, who needs God's protection as he awaits justice from those representing the law. And for his accusers, who are responsible for his pending arrest, may they discover the truth of the Gospel for themselves and the joy of personally knowing Jesus as their Saviour and Lord.