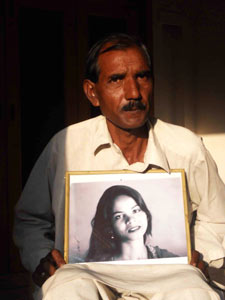 Remember in prayer Asia's
husband and children.
The appeal hearing for Asia Bibi, a Christian woman imprisoned for blasphemy, has been postponed "to a later date." Asia was arrested in 2009 on charges of insulting Mohammed and later sentenced to death. Since then, she has been waiting for her appeal to be heard while being held in isolation at the women's prison in Sheikhupura (Punjab). (For more on Asia's case, click here.)
Initially scheduled for March 17th, Asia's first hearing was cancelled due to the absence of one of the two presiding judges. Under Pakistani law, two judges have to be present in death penalty cases for the entire trial.
The high-profile case remains hugely controversial in Pakistan. The former Governor of Punjab, Salmaan Taseer, was killed by his bodyguard in January of 2011 after showing support for Asia. Then, two months later, Minorities Minister Shahbaz Bhatti, a Christian, was assassinated after voicing support for Asia and demanding reform of the country's blasphemy laws. Shahbaz's brother is now facing death threats. (For more on these threats, click here.) Late last year, Pakistan's Federal Sharia Court demanded that blasphemy should carry a mandatory death sentence.
After this disappointing setback, pray that the Lord will continue to sustain Asia and her loved ones as they await the appeal hearing. May the judges and other authorities pursue justice, and may they also be protected from those who wish them harm as a result. Ask God to use this case for His good purposes, transforming the hearts and lives of those who do not yet know Him and encouraging believers to be courageous in their faith.