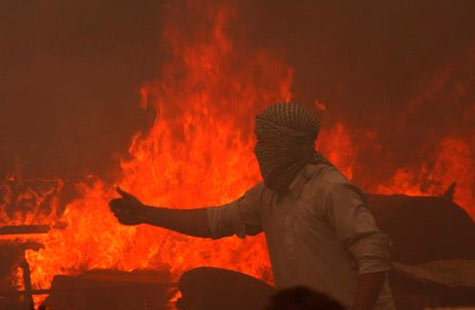 Militant Islamist attacking Joseph Colony in March 2013
Photo: Abid Nawaz via World Watch Monitor


Sawan Masih, a Christian road sweeper and father of three from Lahore, was sentenced to death for blasphemy on March 27th. Sawan was also fined 200,000 rupees (approximately $2,250 CAD). The trial was conducted in the Lahore Camp Jail, where Sawan has been unable to leave due to the threats on his life.
Sawan's sentence is based on a conversation that occurred between him and his Muslim friend in March of 2013. Two days after the conversation, more than 3,000 Muslims pillaged Sawan's community in Joseph Colony, looting and torching Christian homes, shops and churches, and displacing hundreds of families. (For more information on these attacks, click here.)
Sawan and his family are reportedly shocked by the verdict. An appeal is being filed with the Lahore High Court, which must sign off on death penalty cases.
Meanwhile, the latest hearing in the appeal of Asia Bibi against her own death sentence for blasphemy took place on March 26th at Lahore High Court. It lasted just 10 minutes due to the failure of the prosecution lawyer to attend. The next hearing has been scheduled for April 14th. Asia Bibi is the first woman in the country to be sentenced to death for blasphemy. (To learn more about Asia Bibi, please visit this page.)
Ask God to grant wisdom and favour to both Sawan's and Asia's legal teams as they face the judicial authorities in Pakistan. While lifting these dear persecuted believers to our Lord, pray that they and their loved ones will be strong and courageous, resting in God's promise that He will neither leave nor forsake them (Deuteronomy 31:6). May their appeals be successful, so that they may soon be released from prison and reunited with their concerned families. Finally, pray that Sawan and Asia will serve as bold testimonies of God's goodness, leading many to faith in Jesus.
For more information on Pakistan's persecuted church, go to the Pakistan Country Report.