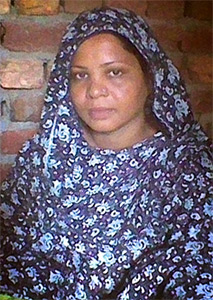 Asia Bibi
On October 16th, Asia Bibi lost her appeal against a death sentence for blasphemy. Her attorneys now have 30 days to file an appeal with the Supreme Court in Islamabad -- a process that will likely take more years of waiting and agonizing endurance. During Asia's hearing at the Lahore High Court, nearly 2,000 Muslim teachers gathered outside while approximately 25 were present inside the courtroom, presumably to put pressure on the judges. When learning about the disappointing outcome of the trial, she pleaded with VOM contacts: "Please do something. It's been so long, and I want to be with my children."
Asia, a farm labourer from Punjab, has been in custody since 2009. She was arrested after an argument with Muslim farm workers who accused her of blaspheming against Islam's prophet Mohammed -- a charge she denies. Asia was given the death sentence in November of 2010 and has been on death row ever since. (To read previous prayer alerts about Asia, visit this page.)
Her high-profile case remains hugely controversial in Pakistan. The former Governor of Punjab, Salmaan Taseer, was killed by his bodyguard in January of 2011 after showing support for Asia. Two months later, Minorities Minister Shahbaz Bhatti, a Christian, was assassinated after voicing support for Asia and demanding reform of Pakistan's blasphemy laws. (For more information on the assassinations of these men, visit the following links: Salmaan Taseer and Shahbaz Bhatti.)
As Asia and her loved ones now contend with this devastating setback, pray that they will look to our loving Father for much-needed peace and perseverance. While continuing to pray that Asia will ultimately be released, ask God to provide her with encouragement as she presently continues to be detained in prison, separated from her husband and children who are longing for her return home. May the Lord grant wisdom and favour to Asia's lawyers as they file an appeal with the Supreme Court, prompting the appeal to be quickly processed in hopes of a favourable outcome. Finally, pray that God will use this challenging situation for His greater purposes, trusting in His promise to work all things together for the good of His children (Romans 8:28), while using the international exposure of Asia's case to bring many people in Pakistan and around the world to salvation.