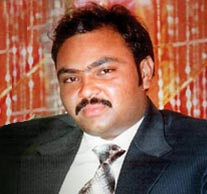 Imran Ghafur
The family of Imran Ghafur, a Christian man who has been in jail since 2010 on blasphemy charges, is requesting continued prayer for Imran's release. The imprisoned believer is currently serving a life sentence on the conviction of burning a Quran.
Imran's brother, Naveed, told VOM contacts that the entire family was able to visit him before Easter. He further shared that Imran continues to read his Bible, fast and pray. The attorney representing the imprisoned believer has filed an appeal with the Pakistan High Court, but no hearing date has yet been set. VOM has regular contact with Imran's family, offering prayer and encouragement. (For more information about Imran, visit our website.)
Please continue to remember Imran in your prayers, asking the Lord to further encourage and sustain him as he remains behind bars after all this time. Additionally, may his family be granted patience as they too are suffering daily due to the long absence. In addition to praying for his release, ask that Imran and his loved ones be granted the strength required to remain faithful to God in all circumstances. May their faithfulness result in a rich harvest, whereby many will come to faith in Jesus Christ.
Important Note: Along with your prayers, you can personally reach out to Imran by writing him a letter of encouragement. When writing, please do not mention the name of the source of your information or the name of any organization such as The Voice of the Martyrs. While it is not dangerous for a prisoner to receive general letters from individuals, if a particular organization is mentioned, the incarcerated Christian may be accused of links with "foreign organizations" and thus be subjected to even harsher sentences. Also, please do not state anything negative about their government. Your letters can be mailed to: Imran Ghafur, Central Jail of Faisalabad, Faisalabad, Pakistan. Thank you for reaching out and making a difference in this believer's life!