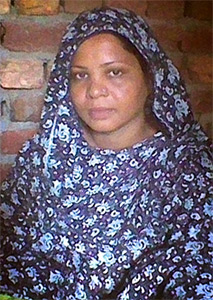 This past Friday, June 19th, marked the tragic six-year anniversary of the arrest of Asia Bibi (also known as Asia Noreen), a Christian mother and the only woman presently on death row for blasphemy.
It all began when Asia was working alongside a Muslim extremist who refused to touch the "unclean" water source from which the Christian mother drank. This led to a verbal quarrel between the two women and subsequent allegations that blasphemous remarks were made by Asia against the Muslim prophet. Though the international community is highly sympathetic to the Christian woman's plight, the Pakistani government is not. Past reports on Asia's situation are available at March 20, 2014 and December 4, 2014.
Recent reports have alerted VOMC of the need to urgently pray for a turnaround of Asia's current health situation. She is reportedly suffering from severe physical problems, including intestinal bleeding and -- according to family members after a recent visit -- Asia was "so weak she can hardly walk." Lawyers are working on behalf of the incarcerated believer, requesting that Asia obtains the urgent medical treatment she desperately needs.
May the renewing of God's Spirit, Word and strength come upon Asia, providing her greatly needed healing both physically and spiritually. In the meantime, continue to pray for Asia's immediate and safe release, asking the Lord to grant her justice in an unjust world (Psalm 140). Also remember to uphold Asia's concerned husband, children and other loved ones in prayer as they journey through this storm with God's abiding presence, clinging to the hope and promises of His unfailing grace in their time of need.