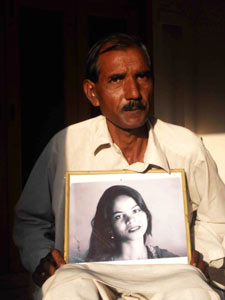 Remember in prayer
Asia and her family.
Supporters of Asia Bibi, a Christian mother who has been on death row for blasphemy since 2009, are relieved to learn that on July 22nd a panel of judges suspended her death sentence. The case against this long-suffering follower of Jesus will be thoroughly reviewed by the country's Supreme Court before a final ruling is made. In light of the recent hearing, a VOM worker in Pakistan wrote, "By the grace of God, this is a big achievement. This is an answer to the prayers of people around the world."
This case has brought world attention to the country's notorious blasphemy laws which are wide open to abuse. All too often, allegations of blasphemy are used to settle scores and take out rivals. Those accused can face detention, imprisonment and the death penalty. And even if they are eventually acquitted, continued threats are made against them and their loved ones. Since the accusations, Asia's husband and children have been forced to go into hiding. An eight-minute video clip featuring their perspective of the situation can be viewed here.
Politicians opposing the blasphemy laws have paid with their lives. In 2011, the Governor of Punjab, Salman Taseer, was murdered by his own bodyguard after calling for Asia's release and the repeal of the blasphemy laws. And within two months, the country's Minister of Religious Minorities, Shahbaz Bhatti, a Christian, was assassinated for the same reason. (For a previous report on this Christian leader's assassination, click here.)
Asia Bibi found herself accused of blasphemy after a dispute with Muslim co-workers who refused to drink the water she had provided because they considered the Christian woman spiritually "unclean." According to reports, some of the female workers had been putting Asia under pressure to renounce her Christian faith and accept Islam. Instead, she responded by sharing her faith in Christ.
As this case is to be further deliberated by the Supreme Court of Pakistan, please continue upholding Asia and her family, asking God to greatly comfort and strengthen them -- upholding justice for this persevering imprisoned believer so she will ultimately be set free. Also pray that the country's authorities will put an end to these deeply unjust blasphemy laws which have often been used to target Christians and others in acts of revenge. May we not forget to intercede for Asia's persecutors (those actually opposing Christ according to John 15:18-27), who are in desperate need of His mercy and salvation.