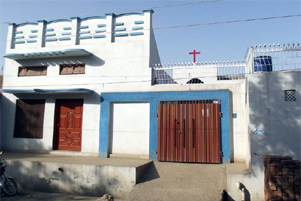 Six months after Christians in the village of Nayya Sarabah were stopped from meeting for worship, the community's officials are now demanding that the church building be destroyed. Local Muslims are refusing to allow a church facility within the village.
Since the construction of the church building in 2012, services have been held regularly for the past several years. However, in December 2016, local Muslims objected. After negotiations, a compromise was reached, allowing the church members to continue meeting. One year later, in December 2017, an application was submitted to the local police station and the church members were forced to sign a pledge, stating that they would no longer meet in the village. Authorities claimed that this legal agreement was for their own safety, explaining that the police were unable to provide security for them.
After almost six months without gathering in the church facility, the Christian villagers were called together on July 2nd for a meeting where they were ordered by officials to demolish their building. In exchange, it was proposed that the church be allowed to build on state land outside the village -- using property that had initially been set aside for a school.
Church members are now conflicted. While wanting to meet together in peace, they have nothing in writing granting them the right to actually build on the new land. On top of that, the impoverished Christians do not have the funds available to build a new church facility again.
Pray that the church leaders will be given wisdom and direction in their struggle to do what is best for their needy congregation members. May peace from God guide the interaction between the Christians and their fellow villagers, so they would be able to resolve the issue amicably. Pray that the authorities will seek to bring harmony among all the community members throughout the negotiation process.