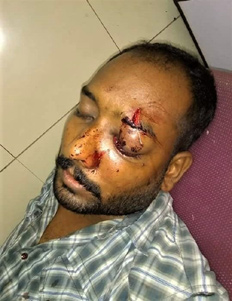 A young Christian in Karachi lost his sight in one eye after armed neighbours attacked his family on August 18th. Other family members were also assaulted but suffered only minor injuries.
Since Alvin John and his family moved into a new home in late 2017, they have faced harassment and intimidation from neighbours opposed to their Christian faith. On this specific night, Alvin's 25-year-old son Vikram had exchanged words with some area youth before coming into the house. The dispute started when Vikram was defending his younger sister who had been teased.
Moments after going into their home, bricks and stones were thrown -- smashing a window and damaging the gate. The attackers demanded that the family leave if they wanted to stay alive. The men then left but returned later that night, forcing their way into the house. Vikram sustained various injuries, but the most severe was the damage of one eye, in which he lost all sight. Alvin and his other son, Sunil, were also beaten but without serious injury.
Alvin believes that the person who led the attack is affiliated with an Islamist political party notorious for supporting gangs throughout Pakistan. The incident has been reported to police, but Alvin is concerned that political backing may prevent the gang from facing charges.
Please pray for the healing of Vikram's eye in hopes that his sight will be perfectly restored and that his other wounds will heal properly. Remember to uphold the rest of his family as they continue to experience harassment from others residing in their community, asking God to protect and care for them. In spite of the hardships they have endured, may the members of the attacked family be testimonies to their enemies of the grace of God. Also intercede on behalf of those responsible for the attack that they will be held accountable for their actions, respond to God's conviction, and come to a point of repentance and salvation.