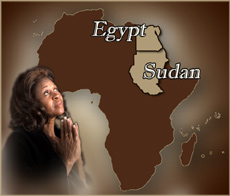 Amid the political shifts in the North African countries of Egypt and Sudan, the laws against defaming Islam continue to threaten Christians in the countries.
Article 98(f) of Egyptian law, known to attorneys as the "contempt of religion" charge, is not officially an anti-blasphemy law. It is meant to discourage people from offending others' religious sensitivities. In reality, however, it is reportedly used to stifle free speech and punish and intimidate those who do not subscribe to the standard, orthodox version of Sunni Islam practiced by most in Egypt. Violating this statute is known as having "defamed a heavenly religion." Others have been charged under the statute with "insulting Islam." By comparison, no convert from Christianity to Islam has ever been charged with Article 98(f) for defiling Christianity.
In Sudan, where the non-Islamic south is set to split from the Islamic north on July 9, as the result of the referendum earlier this year (click here for more information), Christians in the north remain vulnerable to baseless accusations of defaming Islam. Apostasy (leaving Islam) is punishable by death. Violation of Section 125 of the Sudanese Criminal Act, which prohibits "insulting religion, inciting hatred and showing contempt for religious beliefs," is punishable by imprisonment of one year, a fine and 40 lashes. While convictions are reportedly rare, Christian converts from Islam continue to be victims of Sudan's blasphemy law.
Pray the Lord will equip faithful leaders who are willing to speak up for human rights and religious freedom in Egypt and Sudan. Ask the Lord to strengthen and protect His often-embattled Church in these countries. Pray that Christ's Body throughout North Africa will continue to be a bold testimony of His love and grace.
To find out more about trials facing Sudanese Christians, go to the Sudan Country Report.