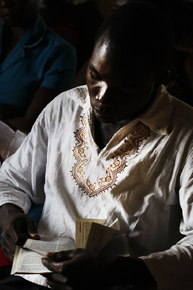 Christianity in Sudan is now regarded
as a foreign religion and sharing Christ
could land one in prison.
Photo: Steve Evans/Flickr

Sharing Christ could land pastors in prison as Sudan's Ministry of Guidance and Religious Endowments has threatened to arrest church leaders if they carry out evangelistic activities and fail to provide their names and contact information.
The threats were sent by letter to church leaders of the Sudan Presbyterian Evangelical Church (SPEC) shortly after the New Year. It arrived just a few days after Sudan's President Omar al-Bashir, who is wanted by the International Criminal Court for crimes against humanity in Darfur, told cheering crowds that following the secession of the largely non-Islamic South Sudan last July, the country's constitution will be more deeply entrenched in Shariah, or Islamic, law (for more on the secession, click here).
Christian leaders said Christianity is now regarded as a foreign religion following the departure of 350,000 people -- most of them Christians -- to South Sudan following the secession. Sudan's Interim National Constitution (INC) holds up Shariah as a source of legislation and laws, and the policies of the government favour Islam. War in Sudan's South Kordofan state has also led leaders there and in North Kordofan to incite hatred against Christians with officials in both states calling for holy war against the predominantly Christian Nuba people.
Pray that the gospel will advance throughout Sudan despite all efforts to thwart it. Please pray that President Omar al-Bashir will be brought to justice for his crimes and that he will repent and bend his knee to Christ. Pray the Nuba people will be protected by God.
To learn more about how Sudanese believers suffer for Christ's sake, visit the Sudan Country Report.