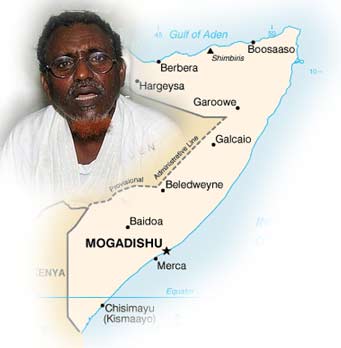 Sheikh Hassan Dahir Aweys
For several years, Somalia has been ruled by a number of guerrilla groups and militias based on traditional ethnic and clan loyalties. As a result, the country is considered the most lawless nation in the world. In mid-June, however, a coalition of Islamic groups referred to as the Islamic Courts Union (ICU) took control of the capital, Mogadishu, along with the southern cities of Jawhar and Baidoa. As the ICU takes increasing control of the country, many international observers have seen this as a positive move that will bring stability to the country. For Christians and other religious minorities, however, the rise of this militant Islamic power with alleged links to al-Qaeda is a matter of grave concern.
Sheikh Hassan Dahir Aweys, head of the ICU, has publicly stated that Sharia law will be enforced upon all citizens. Islamic militias have reportedly begun forcing Islamic dress codes and practices upon the citizens. There have also been recent reports that children of Somali Christian refugees living in Kenya have been kidnapped by Muslim relatives and taken to Islamic institutions in Somalia for "rehabilitation."
Pray for VOMC as we are presently strategizing on how we can most effectively minister to the church in Somalia. Pray that Sharia law will not be forced on the people of Somalia. Pray that the children who have been taken from their families will be returned safely.
For more information on the persecution of Christians in Somalia, click here.