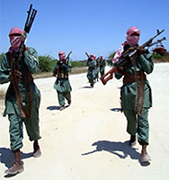 Seven Christians were beheaded on July 10 in the town of Baidoa, Somalia by the al-Qaeda-linked group, al-Shabaab -- a militant group that controls much of southern Somalia and the country's capital, Mogadishu. The Christians were accused of renouncing Islam and being "spies" for the government. Public executions, floggings, and amputations have reportedly increased in areas controlled by al-Shabaab in recent weeks.
Pray for the friends and family members mourning the loss of these Christians. Pray that Somali believers will exemplify the love of God through consistent love and prayer for those who persecute them (Matthew 5:43-48).
To find out more about the persecution believers face in Somalia, click here.