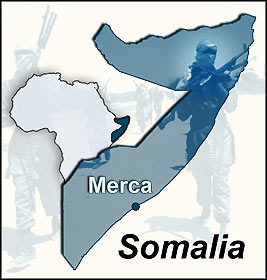 Four Somali Christians were beheaded after being kidnapped by members of Al-Shabab, an Islamic militant group, on July 27 in the town of Merca, near Mogadishu, according to an August 11 report from International Christian Concern. On August 4, a member of the group notified the families of the victims that the Christians were promoters of "fitna," a Muslim term for religious discord, and had been beheaded for apostasy for refusing to convert to Islam. The militant also told them that the bodies of the believers would not be given to them, stating that "Somalia does not have cemeteries for infidels." The four Christians had been working for a local government organization which assists orphans in southern Somalia.
Ask God to comfort and encourage the families of these martyred believers. Pray that those responsible for these heinous killings will be brought to justice and that they will come to faith in Christ.
Go to the Somalia Country Report to discover more about the persecution of Somali Christians.