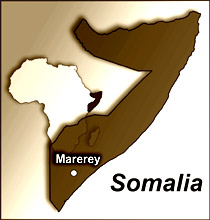 On September 28, Islamic militants shot and killed an underground church leader, Mariam Muhina Hussein (46), in Marerey village, Lower Juba, Somalia after discovering six Bibles in her possession, according to an October 1 report from Compass Direct. The day before the shooting, Sheikh Arbow sent his wife to visit Hussein's home and pretend she was interested in learning about Christianity. During the visit, Hussein read passages of the Bible with Arbow's wife and told her that she could visit regularly to discuss God's Word. Arbow's wife then confirmed to her husband the presence of Bibles in the home. The next day, Arbow visited Hussein along with some other Muslims. He requested a Bible from her. Hussein gave one to him and he revealed that he was looking for "Christians who have defiled the Islamic religion." Arbow then ordered her to show him the other Bibles that she owned. When she handed them over, he shot her three times, killing her instantly.
Thank the Lord for working through the life of Mariam Muhina Hussein. Pray that those who mourn for her will draw near to Christ for comfort. Pray for encouragement and strength for Somali Christians facing trials for their Christian witness.
For more information about the trials facing Christians in Somalia, click here.