A Somali Christian, Mohamud Muridi Saidi, has fled the Kakuma refugee camp on Kenya's border due to death threats he received from Muslims who had transferred to the camp in August. The Muslims, who knew Saidi was from a Christian family, threw stones at his iron sheet home four times in recent months, once in mid-October and three times in November. As word spread that the Muslims were intending to kill him, Saidi fled the camp on November 23 and was forced to leave his family behind. At last report, Saidi remained in hiding in fear for his life and was hoping for asylum for his family. He is the sole provider for his mother, wife and four children. (Source: Compass Direct)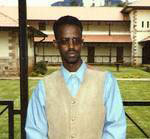 Abdurrahman Hajji Omer
On December 3, a Somali believer living in Addis Ababa, Ethiopia was poisoned by an unknown assailant. Abdurrahman Hajji Omer (38) died the next morning at the local hospital. He is mourned by three children.
Ask God to give His abiding comfort to Abdurrahman Hajji Omer's family as they mourn for him. Pray for God's protection and provision for Mohamud Muridi Saidi and his family. Pray that in the midst of challenges, Somali Christians will remain unshaken from the work the Lord has given them, trusting Him to bring eternal results (1 Corinthians 15:58).
To find out more about Somalia's suffering Christians, click here.