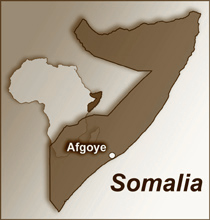 Three Islamic al-Shabaab rebels killed a Christian man in front of his home in Afgoye, Somalia on March 23. The men shot Mu'awiye Hilowle Ali at close range, hitting his head and chest and killing him instantly. Islamists had previously accused Mu'awiye and his family of spreading "fitna" -- an Arabic word for religious discord. Trained in the former Soviet Union, Mu'awiye had served in the Somali armed forces. He converted to Christianity in 2006. Members of al-Shabaab refused to allow Mu'awiye's body to be buried in a public graveyard, calling it Muslim territory. As a result, he has been temporarily buried in the compound of his home. He is survived by his wife and 10 children. In response to the tragedy, a Somali church leader in Mogadishu said, "[his] martyrdom will only strengthen the Somali church and that such violence will never succeed in stopping the church planting movement we see in Somalia today." (Source: International Christian Concern)
Pray that Mu'awiye's widow and children will draw near to the Lord as they mourn. Pray for protection for Christians facing intimidation and threats from those around them. Pray for Christians working secretly to share the message of Christ in Somalia.
To find out more about the persecution believers face in Somalia, go to the Somalia Country Report.