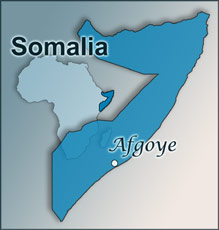 A member of an underground Christian movement in Somalia has been murdered by Muslim militants in a continuing campaign to eliminate converts from Islam. Area sources said al Shabaab militants entered the house of Osman Abdullah Fataho in Afgoye, 30 kilometres from Mogadishu, at 10:30 the night of July 21 and shot him dead in front of his wife and children. Fataho was a long-time Christian deeply involved in the activities of the small, secret Christian community, sources said. Area Christians said they suspected someone had informed the militants of Fataho's faith. The assailants abducted his wife and four children, later releasing her on the condition that she surrenders the little ones to be trained as soldiers. "We know they have taken the children to brain-wash them, to change their way of life from Christian to Muslim and to teach them the Koran," said one source. Abducted were Ali Daud (5), Fatuma Safia (7), Sharif Ahmed (10) and Nur Said (15).
A Christian leader who attended Fataho's funeral on July 22 said that one of the slain man's relatives noted that the militants had targeted him because he had left Islam. The incident has spread fear among the faithful in the lawless country, much of which lies in the grip of ruthless insurgents' intent on rooting out any person professing Christianity. Leaders of the Christian underground movement have been forced to flee their homes to avoid being killed by the insurgents, said one leader who, along with seven others, has temporarily moved to an undisclosed area. (Source: Compass Direct)
Please uphold Fataho's wife and children. Pray for them as they grieve the loss of their husband and father, and ask the Lord to intervene in this situation so that the children may be returned to their mother. Pray for all Christian believers, particularly Muslim background believers in Somalia who follow Christ at great risk. Ask God to strengthen His church in Somalia to help them to withstand such intense persecution.
For more information on the persecution of Somalia's Christians, go to the Somalia Country Report.